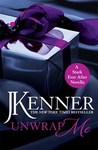 Unwrap Me
by
J. Kenner
My rating:
5 of 5 stars
Final Score - 5 It Really IS A Wonderful Life Stars!!!
Tis the season for family and friends to get together and just relax and be as one. Jackson, Sylvie, Ryan, Ollie, Jamie, and even Little Ronnie too. All gather for the festivities at one of Damien's homes.
And of course Little Ronnie has Uncle Damien wrapped around her little fingers - I pity Jackson & Sylvie when this child turns teenager! Sylvie is now 5 months pregnant and of course, or naturally, the topic of babies turns to when Damien and co. will supply their inner circle with Little Fairchild/Stark's.
Let's hope it's in the not to distant future - I for one would LOVE to see Damien melted by a mini version of his sweet Nikki.
Throwing the What if? aspect was nearly comical for me to read - I don't quite see thing having happened that way - but it was plausible and thank good it was after-all... just a dream.
To find out who's, you'll just have to figure that out for yourself.
View all my reviews