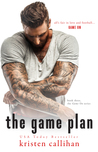 The Game Plan
by
Kristen Callihan
My rating:
5 of 5 stars
Final Score - 5 WHAT AN ENDING TO BEHOLD Stars!!!
Fi and Ethan did not disappoint and were the perfect couple to explore in this LAST book of the series. Grant, they suffered the highs and lows of trying to balance life, love, and distance in a new relationship... but they weathered the storm, together somewhat.
That explosion just before the end has been gearing up for sometime, but like Fi said, "Better to get it out then have it break you."
I'm sad these characters are now gone, but they will live on for me (I plan to re-read this at a later date). And who knows, I can smell a spin-off series in the wings...
Maybe?
Hopefully?
Please? *cheesy grin*
View all my reviews