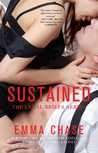 Sustained
by
Emma Chase
My rating:
5 of 5 stars
Final Score- 5 I CRIED MY EYES OUT Stars!!!
Between the kids just being kids, Chelsea trying to keep it all together and not fall apart, or even Jake being your typical dumb male... I didn't know who broke my heart the most. Even when I was laughing, I was crying!
Jake will break your heart, and he did quite frequently with his indivisiveness and confusion about how he thought his life/career should be like. The kids will not only steal it but heal it as well.
There just wasn't one character I couldn't not fall in love with, from sour-faced Riley to adorable baby Ronan - each one burrowed into my heart and will forever remain. I don't think I've ever finished an Emma Chase novel as quickly as I did this one and I'm kinda sad that it's over now as I should have paced myself more slowly.
I can't wait for the last book in the series... from the excerpt at the end, it'll be another book I won't be able to put down once I get my hands on it.
View all my reviews